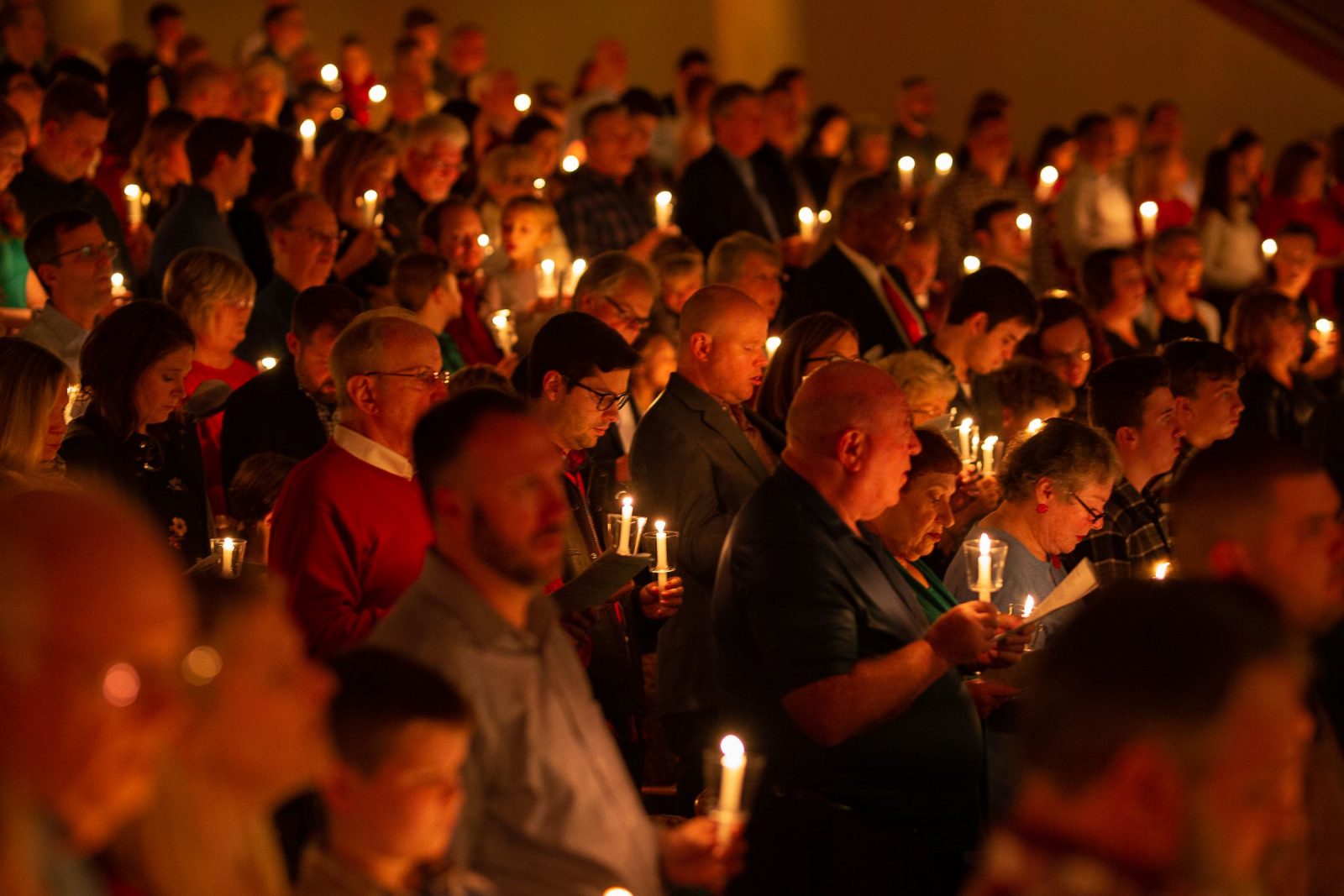 I saw a woman in our church named Marilyn for the first time in months today. I asked her how she's been doing through this strange time and she remarked: "It feels sort of like a dream." I agree. The hitherto unprecedented ways of life during the pandemic, the isolation, the political and racial tensions, the masks – all of it has a rather dreamlike quality to it (or perhaps a nightmare!). In this context, carrying out the life of our church has been bizarre and challenging. A Resurrection Sunday via the screen at home back in April illustrates the strangeness.
A wonderful and welcome blessing has been the opportunity to worship together outside at Franklin. This Sunday at 10a will be our fifth worship service outdoors. It has lifted my spirit to be present with God's people again, to sing His praises and learn from the Word. At the same time, I miss so many who are not there. It feels like half of the Body of Christ is missing, because half the body of Christ is not present bodily. This of course does NOT mean that those who are remaining at home are absent in spirit. For you who are staying home, I hope you feel as much a part of NAPC as those who are coming on Sundays, because you are. To attend in person or not is a matter of conscience, and reasonable people disagree about what is most prudent. The livestream has been an amazing tool to help keep us together when it is working properly. But if you are staying home, you know that we have had some challenges. Without going into details about our different streaming platforms, devices and connectivity, suffice it to say that each week has brought a different and unpredictable challenge. No one has been more frustrated about this than me (with the exception of Brady who oversees it). We are working very hard to have an excellent livestream, and we will continue to do so (please pray).
In a time where there is so much information out there to sift through, and so many different opinions about what is wise or unwise, true or false, my hope is that we do our very best to practice unity in this body of Christ. Likely there has not been a time in our 21 years of existence as a church when unity has been more difficult, or more important. Paul writes that we all have different gifts that make up the Body of Christ in 1 Corinthians 12:12-13:
12 For just as the body is one and has many members, and all the members of the body, though many, are one body, so it is with Christ. 13 For in one Spirit we were all baptized into one body—Jews or Greeks, slaves or free—and all were made to drink of one Spirit.
Regardless of our particular gifts or race or station in life, we are one body! Our unity is rooted in a common sinfulness before a holy God and a common redemption through faith in Christ alone. This reality trumps all others. It is more important than differing perspectives on live-streaming from home or leaving home to worship, differing opinions about mandating masks in public or not, or differing beliefs about whether there is structural racism or not. The one reality that binds us together – the Gospel of Jesus – is far more important than a hundred differences of opinion. Even (especially) when we are going through difficult and confusing times, the Gospel is what keeps us together.
It is no accident that after writing about unity in the body of Christ, Paul immediately shifts to the topic of love in one of the most poetic chapters in the Bible, 1 Corinthians 13. Contrary to what many a new bride and groom think, this passage is not about marital love but brother and sister body of Christ love. The church in Corinth was a mix of all different kinds of people with different views. Some of them were deeply in sin. And Paul, after reminding them of the Gospel and rebuking sinful behaviors, gives them the blueprint for life together – sacrificial love.
4 Love is patient and kind; love does not envy or boast; it is not arrogant 5 or rude. It does not insist on its own way; it is not irritable or resentful; 6 it does not rejoice at wrongdoing, but rejoices with the truth. 7 Love bears all things, believes all things, hopes all things, endures all things. 8 Love never ends.
In a difficult time to practice unity, let's continue caring for and loving one another. Check in with friends or those who might be lonely. Write a card. Stop by to pray for someone you miss. Our leaders – the deacons, staff, elders and small group leaders – are doing our best to reach out as well. We want to hear how you are doing and know how to serve and support you (if no one has reached out to you, please let us know here so we can get in touch).
I am so thankful to serve our God-glorifying church! We have so many things to strive for in carrying out a mission greater than ourselves. Let's continue to bear one another's burdens, check in with one another, and above all, love one another.
Pastor David