Monday January 25th
For the third time since all of this began, I have to begin a quarantine and find out if I have the virus. Today I found out that my mom and dad tested positive, and I had breakfast with my dad and brother on Saturday morning.  I am not concerned about me, as I have been exposed several times already and have tested negative each time. Plus I feel fine. I am a little worried for my parents, and prayerful that they will not get terribly sick. Mixed with this concern is relief that my dad gave it to me and not the other way around. Today's quarantine changes nothing for me because I normally spend Mondays in my home office writing my sermon for the upcoming Sunday.
Tuesday January 26th
I spent the day on calls, in front of a screen. This is very typical for many working people and for kids who have to school virtually. I do not envy them. I find it mind-numbing to do this, particularly when the rest of our staff is all together and I am on a screen. Like most people I much prefer being in the room. The quality of the conversation, the nuances of non-verbal communication, the timing of the jokes all make it far more enjoyable to be together. I understand the reason for the caution, but I don't have to like it. 
Tuesday evening – uh oh. I am starting to feel not quite myself. The beginnings of a cough, and a strange tingling in my chest like I just ran a few sprints in 20 degree weather.  
Wednesday January 27th
After finishing my 7-8:30a discipleship meeting (virtually), I went to get tested for COVID, a rapid test at CVS. After making the 10 minute drive home my phone rang. The nurse practitioner kindly but firmly delivered the news – COVID positive. This was not all that surprising by this time. I felt several things at once: 
– Relieved that I received it, rather than gave it, to my parents
– Perversely exhilarated – "it's about time, bring it on"
– Thankful that after this is over I will have antibody powers providing me immunity. 
– Sick, and getting sicker. Throat, tightness in my chest, achey. A couple Tylenol and some rest. Time to live in the basement for the next few days. 
Thursday January 28th
I was scheduled to lead a funeral on Saturday, which I was honored to officiate on behalf of Andy Larned's father Hal. These timing issues are always providential and God knows infinitely more than us. I would've liked to have been there, but they didn't need me. I recorded a video message for the funeral from my basement, and by the end of the 15 minutes my voice about gave out. I am not a videographer, and I notice that I failed to remove a towel, an inhaler and a container of cashews on the table from where I gave the Good News of the Gospel by iPhone. I tried to crop the random assortment of personal items, but the video kept reading an error message and wouldn't let me. Oh well, send it. 
Isabella wanted to get an antibody test to make sure she was immune. Instead the blood test revealed a recent or current COVID infection (for the second time since July). This is very strange. She was supposed to have gone on a college visit with a family in our church, and now cannot go. Yet another missed event because of this blasted virus. Her positive test weakens our rationale for isolating from one another, and by Friday we are mingling just as we would normally. It is dreary being completely isolated, and it makes no sense to do so when everyone has been exposed. 
I am having a hard time sleeping. I wake up at the most odd stretches – 2-6am one night, 12-2:30am another, 3-5:15a another. Because of the quarantine, I can catch up on sleep in the later morning. I sleep until 9a or 10a, which is one of the blessings of a schedule wiped clean. 
Sunday January 31st
I wake up and listen to the Bible-in-a-year plan, then dress up for church that I will attend from home. The family gathers in the family room. I build a fire in the fireplace (the last one of the season, we've burned through a couple cords and are all out already). We walk through the elements of the service, participating as best we can. I have to pause it a couple times to rally the attention of the entire family (there is no pause button when we are there in person). Brady does an outstanding job expositing the Word of God. All are encouraged. 
After church, we practice a weekly discipline of family worship on Sundays modeled after our worship service. We call each other into God's presence, sing, confess sin, share what God the Holy Spirit taught us through the preached Word, and end with prayer for each other. I share that I have been worried about Isabella going to college next year. I want to not worry, like Philippians says. I pray for her and she prays for me. 
Lia, Annie and I have been watching a show since our quarantine started, "The Chosen." It is a multi-season show of the life of Jesus. I could quibble over a few details (such as the smoothing of the rough edges of Jesus at the wedding at Cana and at the well in Samaria), but overall it is very well done and I tear up a half dozen times when Jesus heals or rescues someone from sin. What a sap! Is it breaking the second commandment to have a show about Jesus with Jesus played by an actor, I wonder? I hope not.  
Monday February 1st
Another bad night of sleep. I feel worse today than I did yesterday. Not that bad, but worse than yesterday. Low energy punctuated by bursts of feeling normal. The snow is glorious, and I shovel the driveway and then take a long walk with Annie and Calvin as the evening flakes float down around us. God is amazing, and His glory leads us to worship if we have eyes to see. We read in our Bible-in-a-year plan recently (Job 38:22): 
       22  "Have you entered the storehouses of the snow?
I have not, but I am the beneficiary of God's infinite, wonderful, indescribable creativity, power, and beauty. What a world He created.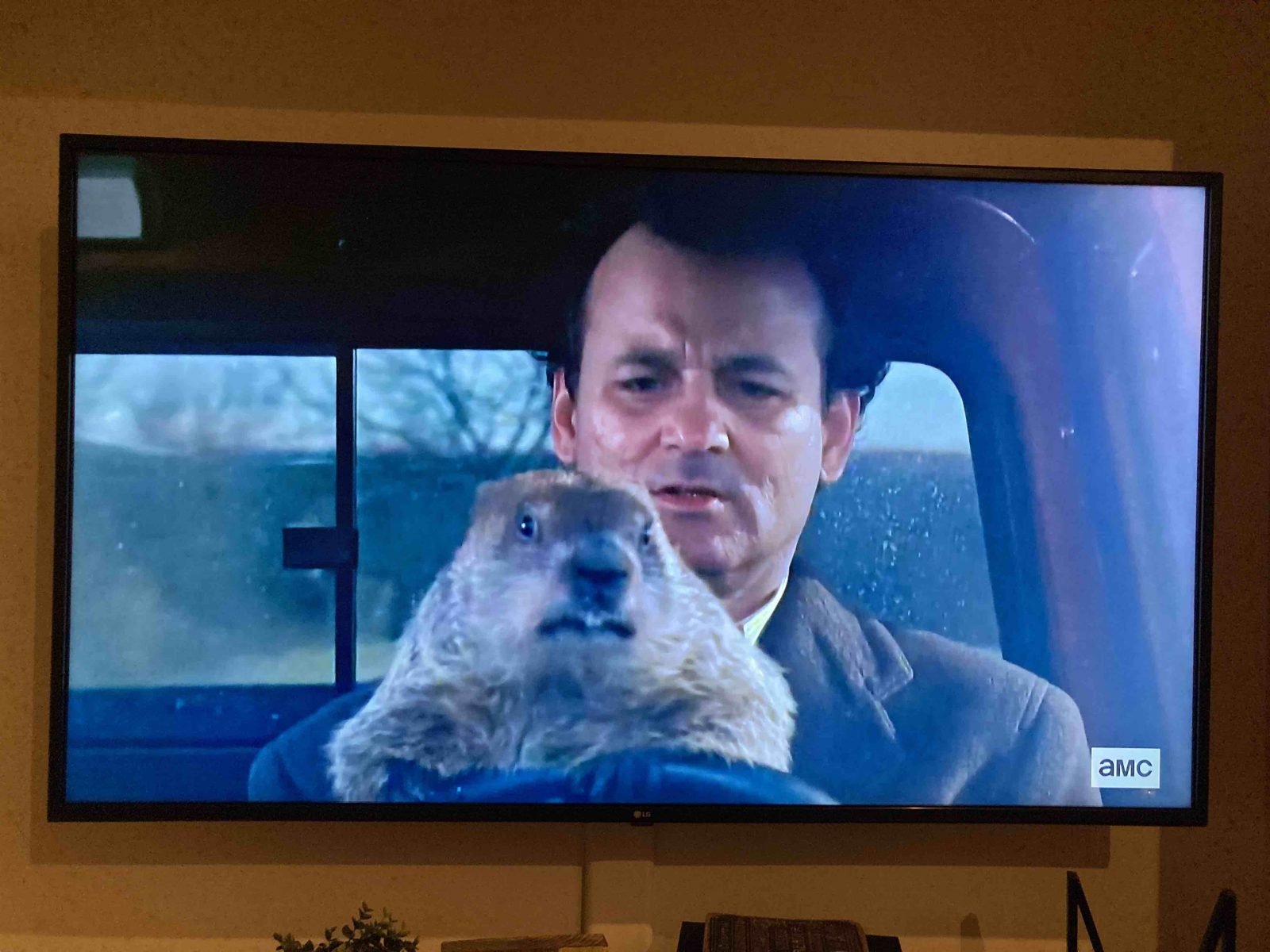 Tuesday February 2nd
Groundhog Day. It very much has the feel of Bill Murray's Groundhog Day. Here I am again. Sleeping in the basement. Working in front of the laptop. Wearing sweats. Cough cough, blow nose. Rinse, repeat. One of the real losses of the last year has been the precipitous decline in human interaction. We need to be social. Our kids need to be social. They have a strong case of FOMO ("fear of missing out") this week. They love their family, but a little variety would be nice. 
Amanda Mull wrote recently in the Atlantic about the place of lesser friendships and acquaintances in our lives. These are actually far more important than we realize:
Understandably, much of the energy directed toward the problems of pandemic social life has been spent on keeping people tied to their families and closest friends. These other [less important] relationships have withered largely unremarked on after the places that hosted them closed. The pandemic has evaporated entire categories of friendship, and by doing so, depleted the joys that make up a human life—and buoy human health.
This is true for us. Church has been a blessed exception to this for us, although it is not quite the same as it was (yet) – getting out of the school quickly inhibits communication, masks limit friendly gestures and small talk. And we miss lots of people who are not worshiping in person. 
In the evening we watch Groundhog Day together (KK, Isabella, Lia and I). I haven't seen it in a couple decades. It seems slower than I remembered at first, but then it picks up. If you aren't familiar, it is about an arrogant, narcissistic weatherman who gets stuck reliving Groundhog Day over and over until he finally learns to be more fully human and compassionate. It takes a loooong time. Watching Murray go from bewilderment at his plight, to pursuing hedonism by taking advantage of people, then edging into despair and nihilism, and finally ending up pursuing a day of virtue is quite philosophical actually. It affirms the theological truth that obedience to God is actually the fullest, most joyful way to live. The movie is also very funny. And very fitting, in light of the current circumstances. Lord, help me to be patient with my family, and help them to be patient with me.
Wednesday February 3rd
I slept for 9 hours. I think I turned a corner. No more strangling stuffiness or lung-rattling cough. The fog is lifting, although I can't smell anything underneath it. Still, it could have been terrible, and it was merely an inconvenience. I am grateful for a home in which to rest, family around me, my parents recovering, and plenty of prayers and food from God's people. What incredible blessings. Assuming that this trajectory continues, I will be released from quarantine and ready to worship, preach, and administer the sacrament of communion on Sunday. I can't wait. 
Pastor David